On April 27th 2010 HLC Kosovo (HLC Kosovo) presented the interim results of the record of killed and missing Albanians in Pristina/Prishtina between January 1st 1998 and December 31st 2000. The presentation, held in the hall of the Municipality of Pristina/Pristhinë, was attended by over 130 family members of those killed, injured and missing in the Municipality of Pristina/Pristhinë.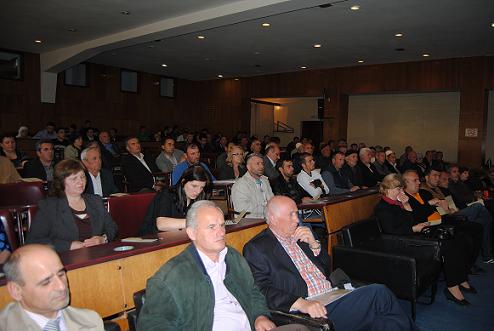 At the beginning of the event, the director of the Directorate for Health and Social Welfare, Nazane Breca, welcomed families and expressed support for the work of HLC Kosovo to collect data on the killed and missing. "The project is very important because so far no one has done anything significant for the victims. The Municipal Assembly of Pristina/Pristhinë is ready to assist HLC Kosovo in the realization of this project and to memorialize the victims in the Kosovo Memory Book.
The HLC Kosovo Head of Office, Bekim Blakaj, presented data on the number of victims from the territory of Pristina/Pristhinë as well as details of their nationality, sex, and age structure to the families of the victims present.
After the presentation, the family members had opportunity to verify the accuracy and completeness of the information about their closest relatives in the HLC Kosovo database. On this occasion the HLC Kosovo team working on the project received large number of relevant documents and photographs relating to the victims.
At the following link you can download the complete presentation of the record of killed and missing persons from the municipality of Pristina/Pristhinë (in Serbian).