On 11 July 2009, the Kosovo office of the Humanitarian Law Center (HLC Kosovo) presented data regarding killed and missing persons from the municipality of Lipljan between the 1998-1999 period. The presentation was held at Lipljan, and was attended by over 50 family members of the victims.
At the beginning of the presentation, Nazmi Krasniqi, the head of the Education and Culture Department of the municipality of Lipljan emphasized that the municipal authorities support the project and that the local government would directly engage in the efforts of HLC in order to make a detailed and comprehensive list of Kosovar victims.

Family members of the victims during the presentation
The head of the HLC Kosovo office, Bekim Blakaj, presented the register of killed and missing Albanians from the Municipality of Lipljan.
Towards the end of the presentation, the family members of the victims checked data regarding their killed or missing family members found in the HLC database. Many of them submitted photographs and photocopies of personal documents of the killed and missing to the HLC Kosovo.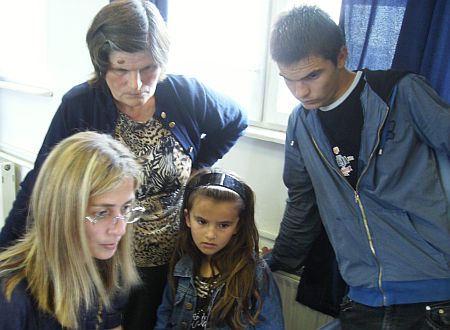 Checking data in HLC database.
The presentation was also attended by members of the press, including the reporters of AFP and Kyodo news agencies.
Please go to the link below to download a PDF document with a complete presentation of killed and missing persons from the Municipality of Lipljan (in Serbian).
Click on the picture below to see the video from the presentation: